The GMI is now on a Buy signal even while the QQQ just reached the 7th day of its short term down-trend.   There were 240 new highs in my universe of about 5,000 stocks and 87 new lows on Friday.   I am waiting to see whether the QQQ can mount a real rally or whether it will complete a head and shoulders top. Meanwhile, the DIA and SPY are in strong RWB weekly up-trends and approaching their all-time highs.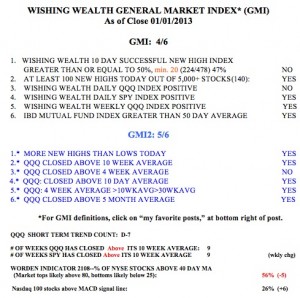 I will be attending the Worden training workshop in late March (3/22 or 3/23).   Register for the free workshop at worden.com. This is how I learned how to use their wonderful TC2000 technical analysis software.
No tags for this post.